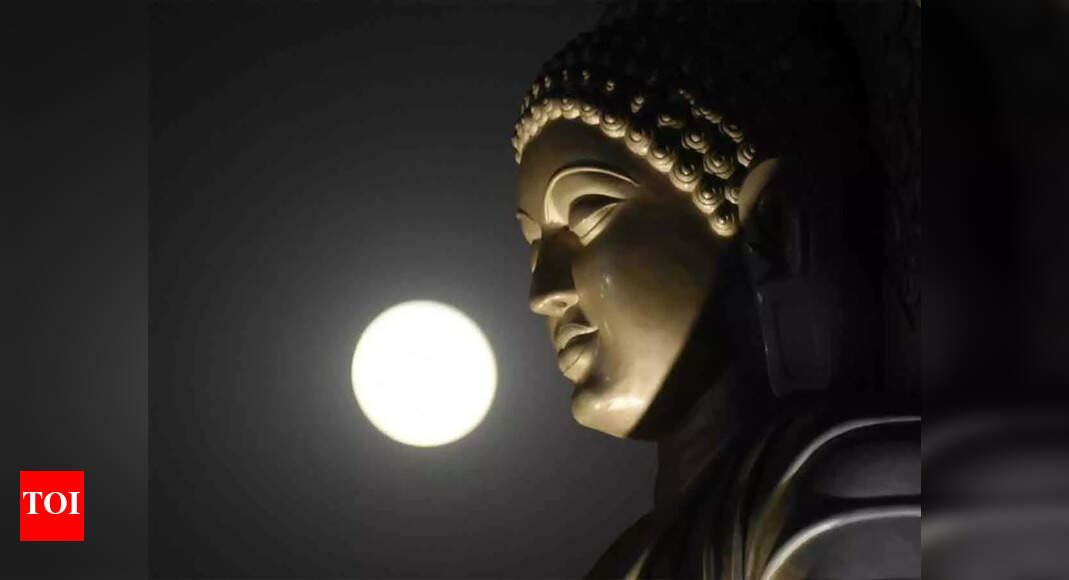 Buddha Purnima 2022: Knowing the Date, Day, Time and Meaning |
Buddha Purnima
2022:
Every year, Buddha Purnima is celebrated on the full moon day of the month of Baisakh (April/May). This year, Buddha Purnima will be celebrated on May 16, 2022.
Buddha Purnima on Monday, May 16, 2022
| | |
| --- | --- |
| Purnima Tithi begins | At 12:45 p.m. on May 15, 2022 |
| End of Purnima Tithi | At 9:43 a.m. on May 16, 2022 |
It is believed that Gautama Buddha obtained enlightenment on this day. Buddha Purnima is also known as Buddha Jayanti, Vesak, Vaishaka and Buddha's Birthday. It is believed to be the 2584th birthday of Gautama Buddha.
The Purnima Tithi will start at 12:45 a.m. on May 15, 2022 and end at 09:43 a.m. on May 16, 2022.
Buddha Purnima is celebrated as the birth anniversary of Gautama Buddha, a spiritual teacher on whose teachings Buddhism was founded. Gautama Buddha's birth name was Siddhartha Gautama. Buddha was born between 563 and 483 BC. AD in Lumbini, Nepal. He died aged 80 in Kushinagar, Uttar Pradesh.
On Buddha Purnima, people all over the world offer prayers to Lord Buddha and seek knowledge and wisdom. Some people visit Buddhist temples and give alms to the needy and poor. Devotees also meditate, observe fasting and read the holy scriptures of the Buddhist religion on this day. You can also celebrate Buddha Purnima and share Lord Buddha's teachings and quotes by sending Happy Buddha Purnima messages, wishes, quotes and images.
For Buddhists, Bodh Gaya is the most important place of pilgrimage related to the life of Gautama Buddha. The other three important pilgrimage sites are Kushinagar, Lumbini and Sarnath. Gautama Buddha is believed to have achieved enlightenment at Bodhagaya and first taught the Dharma at Sarnath. Paranirvana.
Buddha Purnima 2022: Important Mantra
ॐ मणि पदमे हूम्‌
To note: Prime Minister Narendra Modi will lay the foundation stone for the construction of a unique center for Buddhist culture and heritage in Lumbini monastic area during his official visit to Lumbini in Nepal today (16 May 2022) at the occasion of Vaishakha Buddha Purnima, informed the Ministry of Culture.