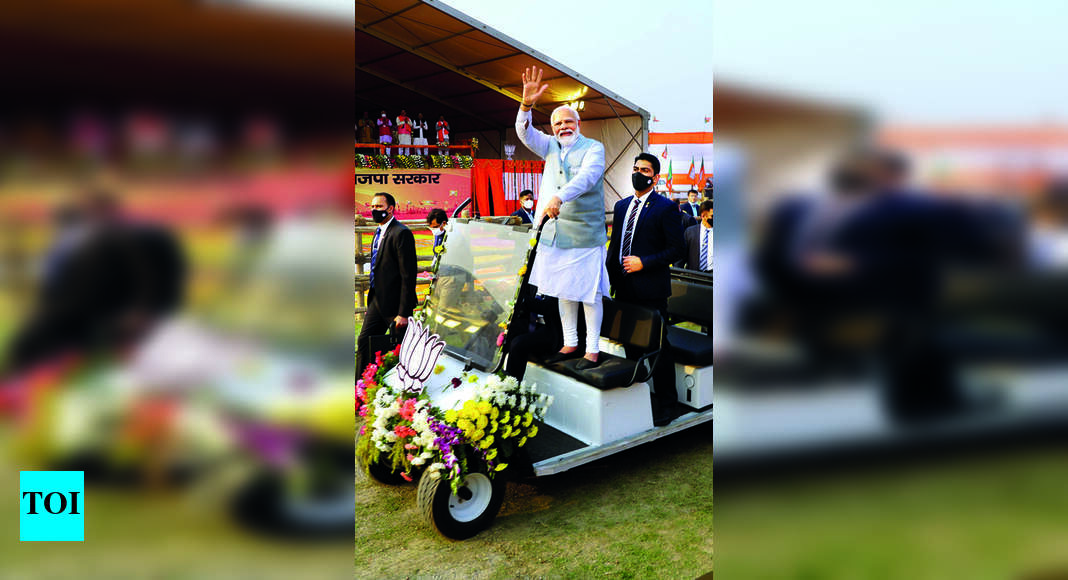 kashi: PM Modi offers prayers at Kashi Vishwanath temple | Varanasi News
Varanasi: Prime Minister Narendra Modi's series of mega-shows aimed at boosting the prospects of Bharatiya Janata party alliance candidates in his parliamentary constituency has kicked off with a bang at the grounds of Sampurnanand Sanskrit University.
Before leaving the city, Prime Minister Modi visited the Kashi Vishwanath Temple to offer prayers inside its gold-plated sanctum sanctum.
As he reached Kashi after speaking at town hall meetings supporting party candidates in Basti and Deoria, Modi boarded a golf cart as he entered the SSU grounds and drove around a passage created between the wise galleries of the assembly area created for more than 20,000 workers at the pit level. In their attempt to approach Modi and take selfies, the eager booth workers not only climbed the barricades but also increased the challenges for security personnel to stop them inside the galleries.
Later, Modi reached the dais at the convention and addressed the gathering for over 24 minutes with a sore throat. Ahead of Modi's arrival, Union Minister Dharmendra Pradhan and Deputy Chief Minister Keshav Prasad Maurya, along with BJP candidates from City South, City North, Cantt, Sevapuri, Rohaniya, Pindra, Shivpur and Azgara (SC) also addressed the workers.
Hours before Modi's arrival, his visit to Kashi Vishwanath Temple was added to his itinerary and security arrangements were made accordingly. Modi's fleet reached the KV temple after passing through Chowkaghat, Teliabagh, Lahurabir, Chetganj, Naisadak and Godowlia. Amid the chanting of mantras, Modi performed Shivarchana inside the temple's sanctum sanctorum, which had been completely gold-plated from the inside.