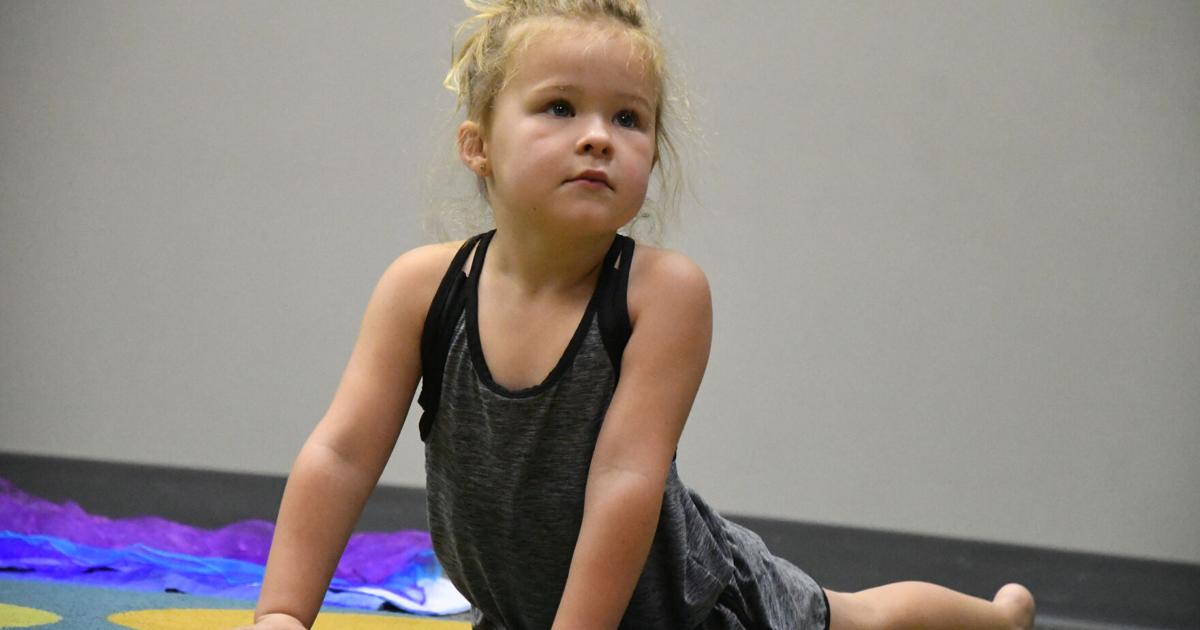 Kids' Yoga Reaches Balance in Rock Valley | New
ROCK VALLEY—The mindfulness aspect wasn't a big part of it, but come on, it's yoga for little kids.
"If you think I'm going to get them to meditate and pose for 45 minutes, that's not going to happen," said instructor Julie McCarty. "Keeping the kids entertained is half the battle, and if you can do some yoga there, that's great."
Despite the attention, McCarty's class was a hit with kids this summer at the Rock Valley Public Library. The last of her free yoga classes for kids is scheduled for 10:30 a.m. on Tuesday, August 9.
The idea for the summer classes originated at the Hegg Wellness Center across town, where McCarty works part-time as a yoga instructor. Its courses are also open to the public, although calibrated for adult learners.
Getting young Rock Valley residents involved in discipline had been McCarty's idea for some time. Her daughter, Sophia, enjoys working out because it helps her find her balance, with the 5-year-old being an avid young gymnast.
Mother McCarty said the library was immediately on board.
"They were super accommodating. They're just a really cool kids library. They have so many activities. It's crazy," she said.
Other youth activities hosted by the Rock Valley Public Library this summer included LEGO Clubs, Family Storytimes, Movie Matinees and the regular Summer Reading Program.
McCarty said her classes typically draw a dozen or more kids, though the most recent class, Aug. 2, had just five.
Rock Valley mom Jasmine Boer said she brought her 4-year-old daughter, Veda, because it was a way for her to stay active while staying air conditioned.
"It's good and she likes it," Boer said. "It's supposed to be very hot today, so I wasn't sure if we had to brave a swimming pool."
Besides an exuberant outlet, McCarty said she hopes her classes teach students the basics of yoga, especially balance. The 45-minute morning classes test a variety of poses with games and challenges. Appropriate for a library event, McCarty also reads a children's yoga book, "Maria Explores the Ocean," a nautical tale following sea creatures and related yoga instructions.
A nurse by trade, McCarty is still new to teaching exercise, beginning her instructor training at Spirit Lake in January. She said it served as a way for her to channel herself mentally and physically.
"If I had to teach yoga, I really wanted to have knowledge in the field. It probably comes from the nurse in me – wanting to get certified and all that kind of stuff," she said. "I just wanted to find a different outlet, be a little more active and dig a little deeper."
The Hartley woman's new passion already stems from her work at Hegg. McCarty is almost ready to open her own yoga studio.
She will be hosting an open house for Authentically You Yoga & Wellness Studio from 10 a.m. to 4 p.m. on Saturday, August 20. The event will take place at the center at 606 Carroll St. in Sanborn.
McCarty said she was excited to expand yoga to an area where the practice has a minimal footprint.
"I wanted to bring something to an area that doesn't already have it," she said. "In big cities, you have tons and tons of studios. We just don't have that. I look forward to working with different teachers in the area.