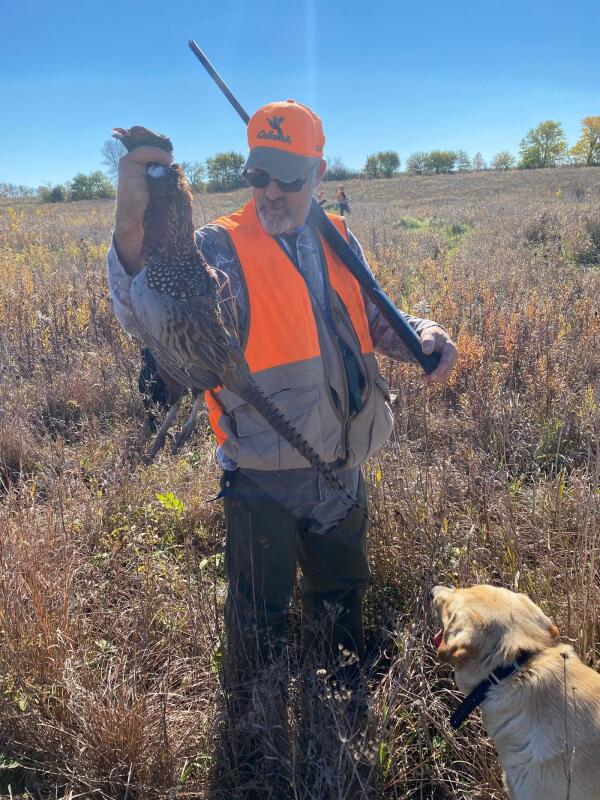 Launch and transform into pheasant season
Wild Side column: the numbers are down, but the fun isn't
Terry Franck of Quasqueton admires a cock pheasant retrieved by his dog, Rocky, on the opening day of the 2021 Iowa pheasant hunting season. The 2022 season opens Saturday with the prospect of a great harvest. (Orlan Love/correspondent)
For more than 60 years, I have resigned myself to a bad night's sleep the day before the last Saturday in October.
Like a child on Christmas Eve, tormented by visions of dancing sugar plums (whatever they are), I toss and turn, my restless mind replaying scenes from the opening days of the previous pheasant season – cocks cackling, flapping their wings, heroic dogs, hunters dressed in orange, fields of amber lit by the low, slanting rays of the autumn sun.
Quasqueton's Arthur Clark poses with a pheasant retrieved by Willow, his German Shorthaired Pointer, on the opening day of Iowa's 2021 pheasant season. (Orlan Love/correspondent)
My memories go back to the mid-1960s, when Iowa consisted of small, short, weedy cornfields surrounded by rows of brushy fences, flanked by fields of oats and hay, interspersed with undrained swamps and unusable – all teeming with pheasants.
Statistics from the Department of Natural Resources confirm this.
DNR road counts in August, the best predictor of pheasant abundance, began in 1962 with a statewide average of 61.1 birds per 30-mile route and an average of 58.6 birds per route during the 1960s. In northeast Iowa, where I do most of my pheasant hunting, the initial index was 90 and the 10-year average was 71.1.
These roadside counts have resulted in annual harvest statistics typically over 1.5 million and often easy three-bird bag limits for me and my hunting buddies.
Enough nostalgia. Agriculture has changed. The fields and agricultural equipment are expanding. The swamps have dried up. Rows of overgrown fences were torn down. Weeds have been pulverized. Oats, hay and pasture have been supplanted by more corn and soybeans. Pheasants have become rare. The hunt has become more difficult.
This year's statewide pheasant index – 19.6 birds per route – is less than a third of the original 1962 index, but it's still good news for hunters.
This is nearly identical to last year's index of 20.1 birds per route, which resulted in a harvest of 373,000 roosters, and is 11% above the 10-year trend (17. 7 birds per course).
Given this year's statewide index, Iowa pheasant hunters are expected to harvest 300,000 to 400,000 roosters this fall, according to DNR upland game biologist Todd Bogenschutz. .
Bogenschutz said Opening Day hunters will benefit from an earlier-than-average corn harvest, which robs runaway roosters of their favorite haven. On Monday, the maize harvest was 59% complete, a day ahead of last year and eight days ahead of average.
Pheasant hunting may have gotten harder, but it hasn't gotten any less fun. Nor was it easier to sleep the night before opening day.
I tried meditation and self-medication to no avail. Repeating a mantra couldn't clear my mind of pesky pheasant hunting thoughts and images. He also couldn't stay up until the taverns closed, even if it shortened the morning wait.
I also tried prolonged physical exertion, which hurt my muscles as I tossed and turned.
Although I'm never well rested on opening day, I hope there will always be enough rushes of adrenaline to dissipate the morning dizziness and keep me alert until sunset.