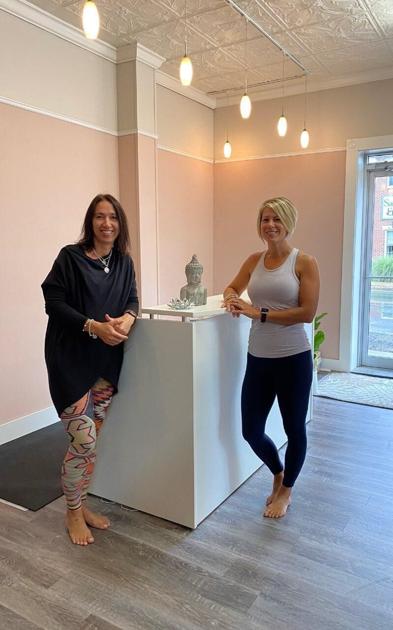 Lotus Yoga & Mindfulness opens in Georgetown | New
GEORGETOWN – Those looking to start practicing yoga – or those looking to get back to it – have a new local option.
After nearly 20 years of practice, Georgetown resident Rae Maglio, massage therapist, and her friend and business partner Meredith Conte opened Lotus Yoga & Mindfulness at 1 W. Main St.
The studio is located down the street from Maglio's Lotus Massage and Spa, which opened in 2016.
When the approximately 1,500 square foot space became available, Maglio and Conte knew they had the opportunity to make a long-held dream come true.
"I always wanted to be a yoga teacher, so I knew I had to do it now," Maglio said. "If not now when? So I just finished the program to become a yoga teacher and my partner, Meredith, she works with me at Lotus Massage and Spa. She always wanted to open a studio.
"One day my husband, John, mentioned that he saw that the street space was available and it sort of happened after that. It's very exciting that everything is finally coming together. Some people will stop and poke their head and ask questions about it. It's exciting to see that people are excited for this.
Lotus Yoga had a smooth opening last week with a few classes running throughout the month, and is planning a grand opening on October 10th. Maglio and Conte are still looking to hire a few more teachers to finalize a more concrete weekly and daily schedule. .
Lotus offers six classes throughout the week. To learn more or to register for a class, visit the Lotus Yoga & Mindfulness website at www.lotusyogaandmindfulness.com.
With everything that has happened over the past year and a half, Maglio believes the usefulness of yoga is at its height.
"After going through all the COVID stuff, a lot of people are reexamining their lives," Maglio said. "They look for meaning and get rid of all the excess baggage they have. Yoga and mindfulness are the way to do this.
"It helps you become more present and start to wonder why you are doing what you are doing. "