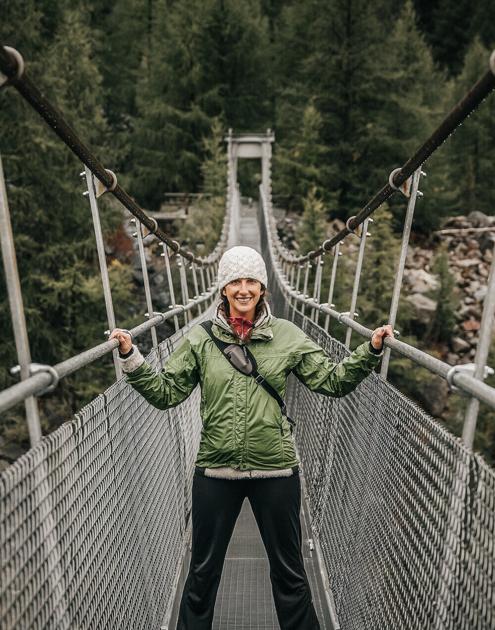 Newburyport businesswoman offers scholarship to young traveler | New
NEWBURYPORT – Local businesswoman is giving lucky young woman the adventure of a lifetime with the launch of a new travel grant.
Kelsy Stromski, owner and creative director of Favor the Brave and The Newburyport Studio, believes travel can be particularly transformative for young women in their late teens and early twenties.
The scholarship, which is open to any New England woman between the ages of 18 and 22, includes a round-trip international airfare of up to $ 1,500 to any part of the world, a gift card Airbnb of $ 1,000 for a place to stay and a Visa gift card of $ 500 for other expenses.
Applicants should also be interested or actively pursuing graduate studies in a creative field such as graphic design, fashion design, art, architecture, interior design, videography, photography, illustration , industrial design or animation.
They must also be US citizens and have a passport with at least eight months prior to expiration and "an intense desire to travel outside of their comfort zone."
Growing up hours from an airport on a 1,000-acre potato farm in a small town in northern Maine, Stromski didn't have many opportunities to travel, but she worked hard. odd jobs as a teenager to make dreams come true. .
"I'm very much in favor of a kind of hiatus and trying to find your passion," said the graphic designer, noting that there is a lot of pressure for young adults to pursue higher education and discover their career path. immediately after graduating from high school.
She finds traveling a way to step out of her own comfort zone, find an identity and network with people from all over the world.
The scholarship is something Stromski has been keen to create for the past few years, saying it is "just my way of giving back" to the community where she has established her family and businesses.
She hopes the idea will have a ripple effect with other studios and companies taking her idea and offering scholarships.
When asked if she was concerned about travel restrictions due to the COVID-19 pandemic, Stromski said she was aware of them, but felt these obstacles could be part of the learning experience. .
Pandemic or not, young travelers should learn to do their research before visiting a new place and ask questions such as "Do I need a visa?" How long can I legally stay in the country? " she said.
The length of the trip will depend on where the winner decides to go. If the woman wants to stay in an apartment overlooking the Eiffel Tower, the purse might only cover a few nights due to the cost.
If the winner wants to go somewhere further away from the tourist destination bubble, then they are likely to get a longer trip.
Stromski stayed in a bungalow in Thailand for $ 15 a night and that included a free yoga class, she said. At this rate, the winner could stay for more than a month.
"I hope people want to travel further and get creative with accommodation, but I really want this to stay open to anybody's dreams and wishes," she said.
Some of Stromski's favorite places include Zermatt, Switzerland; Reykjavik, Iceland; Beaune, France; Isla Mujeres, Mexico; Santa Teresa, Costa Rica; Azores, Portugal; and Koh Lanta, Thailand.
Deciding on a place to visit depends on what interests a person and the time of year.
"I think you get a much more authentic experience when you're not inundated with other tourists," she said.
The trip she enjoyed the most was "where I was really the underdog – and I say that in the best possible way because that's when I feel like you have a real idea of ​​a place ".
To apply for the scholarship, instead of writing an essay, applicants are asked to create a 4 inch by 6 inch postcard on heavy paper and visually answer the question: "What sparked your passion for travel? "
Postcards should be mailed between November 1 and December 1 to Favor the Brave, 70 State St., Third Floor, Newburyport, MA 01950. On the reverse side, applicants should include their name, address, email, phone number. phone, age and a one-sentence caption for their creation.
On December 20, applicants will be reduced to 10 finalists. These people will be notified and invited to submit a one-minute video of themselves explaining why they should be chosen to win.
Preference will be given to applicants with limited financial resources which could prevent them from traveling.
To learn more about the scholarship, visit https://thenbptstudio.com/scholarship. Also check out @ favorthebrave.co and @thenbptstudio on Instagram for updates and travel inspiration.
Journalist Heather Alterisio can be contacted by email at [email protected] or by phone at 978-961-3149. Follow her on Twitter @HeathAlt.