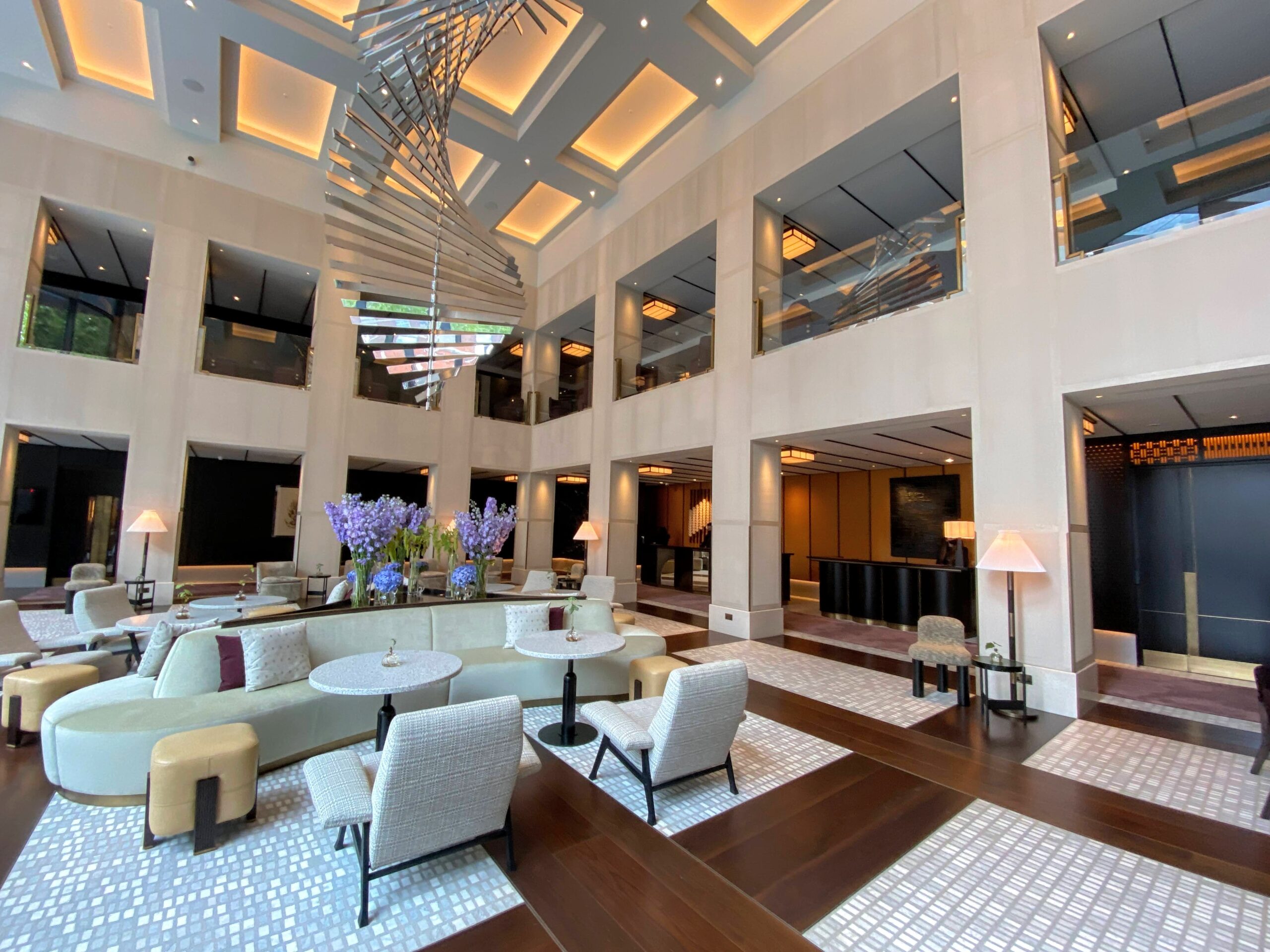 NOBU Portman Square London Hotel and Restaurant Review + Nobu Free Nights Offers
This is my review of my stay at Nobu Portman Square London in the fall of 2021. As I said the other day, before staying at Nobu Hotel, I wasn't expecting much. Although I enjoy the food at Nobu, I haven't heard good things about their Las Vegas hotel and feared it was style over substance. So what did I think of it?
Location
The location was what appealed to me as I had social events in Portman Square. I had often thought the terrace outside Nobu looked nice, but I had never been there.
The hotel is just a few minutes walk from Selfridges and opposite the Hyatt Churchill hotel. It's a 4 minute walk from Marble Arch tube and 6 minutes from Bond Street so it's pretty well connected to transport and things nearby.
Registration
As soon as my taxi arrived there were staff to open the door and take my luggage.
The hotel door was opened for me and I was welcomed into the hotel. The reception area is beautiful and feels very luxurious and tranquil.
The reception staff were very helpful and friendly throughout my stay. I arrived early but there was no problem checking in. Although they explained a few crucial parts of the hotel, there was also a welcome letter which I always like to refer to. I was asked if I would mind giving my cell phone so they could add me on What's app if I needed something which sounded like a good idea.
Bedroom
I had booked a deluxe room, one above the entry level superior room. As expected, the room was Japanese in style and slightly minimalist. I think when you see pictures of the rooms they might look a bit austere, but that was not the case.
I liked that there was a huge desk that you could use to work or dry your hair with a chair placed near the mirror. There was also an armchair and a table that you could use to work on if you wanted a more relaxed position.
There was a note welcoming me to the hotel and some of the Senbei crackers that were left by the Japanese tea set.
It felt like a personal touch and something unique to the hotel.
There was also a Nespresso machine, kettle and fresh milk in the fridge.


The mini bar was full of choices to drive up the bill! I liked that they had the Moth premixed cocktails including Negroni and Espresso Martini. It was good to see some beautiful glassware to go with it. Two bottles of water were provided on arrival and refilled at turnaround time if needed. Turn down service was great with my whole bedside table neatly rearranged on a flannel and water turned off too.
There were the usual bathrobes (very good quality) and slippers as well as a safe and an umbrella. There was no iron or ironing board but I provided one very quickly when I asked for it. They also have clothes steamers available.
There were plenty of outlets everywhere, including near the bed, and the switches were easy to use. The bed was very slightly firmer than I would like but overall it was comfortable and the hotel was quiet. Maybe it was due to the Nobu (Simmons) exclusive mattress. You could feel the quality of the 400 thread count pure cotton sheets. I was on the 9th floor so quite high and didn't hear any traffic noise.
I particularly liked the luxurious bathroom with its marble floor. I was surprised to find no Japanese toilets!
Full size Grown Alchemist toiletries were provided along with a good selection of Nobu branded toiletries. I'm a fan of Grown Alchemist so I was happy!
The shower was the highlight as it was large with a huge rain shower head, separate hand shower and easy to use controls.


Food and drink
One of the huge pluses for me was that they served breakfast until 2pm! I had it included in my rate and it was great to be able to have brunch after a late night!
Somewhat oddly, it was served at the bar. The menu had lots of interesting choices and on the first day I went for the Yuzu Crab Benedict as I love Yuzu. You could choose whatever you wanted if you had breakfast included, so I also opted for a croissant which was huge while being beautifully light and flaky. It was served with a choice of fine butter and homemade jams. Delicious!
The benedict was also great and the eggs cooked perfectly. I really liked having the brioche toast instead of a muffin as it was much lighter and the sweetness went well with the crab. It could have been done with a bit more crab but that's my only complaint.
The service on the first day was excellent and the experienced waitress I had was personable and very friendly which really made the experience. All in all a fantastic way to start the day.
The second day was a bit less successful as you had to wait quite a long time but the bar was full being a Sunday morning. The same waitress remembered me and when they were out of croissants (to be honest it was probably around 12:30 at the time) the kitchen made one especially for me! This characterizes the level of service I had throughout my trip.
The second day I went for full English. I loved the homemade baked beans and sourdough toast. It's the attention to detail that really makes it. I had also tasted crispy bacon the night before so asked to swap it for the back bacon which of course was no problem.
I really liked the lounge bar and have been back several times for great cocktails. They also have the Nobu Lounge which is more of a night club. Here is the full list of cocktails at Nobu:
If you're ever in the area, I recommend popping in for a Japanese Fizz. I introduced it to all my friends and they all ordered another one or three! so they had to be good! They have that lovely citrus flavor of Yuzu with a hint of sherbet about them. It's the kind of drink that seems very innocent but gets its revenge the next day!
Nobu restaurant
If you haven't been, it's worth going once if you have deep pockets and love Japanese food. It's basically Japanese fashion with a hint of Mexican. Portions are quite small which makes them expensive. But I like being able to try several different things. I had a few of my favorites:
Crab tacos
Then Yellowtail Jalapeno which comes with a soy/citrus dressing and just the right kick of the jalapeno.
Then the Toban Yaki beef sizzling on a ceramic plate. It was ok but I found it a bit bland.
The highlight was actually the asparagus tempura which had a very thin crispy batter around beautifully fresh asparagus and a lovely dip. It was so good that I ordered another portion!
Facilities and spa
Nobu has three treatment rooms offering a range of bespoke treatments including Nobu Zen – a Nobu Signature ritual with stretching and massage techniques to balance the body and harmonize the mind. I went for a 60 minute Ritual of the Restless Traveler treatment. This consisted of a dry leg brushing to activate lymphatic drainage and reduce puffiness, followed by a long foot ritual with acupressure before moving on to an Indian head massage and an anti-pollution facial massage to cleanse and to feed. I would say this is pretty much my dream treatment and very relaxing. The therapist was lovely and felt very pampered by the experience. I would definitely stay there again even if I wasn't at the hotel.
Then I was offered their signature tea which was tasty (I hate most herbal teas so that's saying something). There is a nice area to sit and relax near the spa and gym which also has outdoor space.


They do a decent variety of treatments although standard things like manicures and pedicures are on request. It looked more like a wellness spa than a beauty salon.
Nobu offers a full Pilates studio with a choice of classes from £35. There is also a modern gym open 24 hours a day.
Reservation and offers
I booked through Luxury Escapes as I had credit to use and it cost £300 a night including breakfast. Normally I would have booked through our GTC travel agency partners as you get extra benefits if you book through them.
In addition to being a flexible rate, you benefit from:
$100 resort credit
Free buffet breakfast for two per day
Early check-in and late check-out subject to availability
Upgrade upon check-in – subject to availability (excludes Saijoukai Suites and Nobu Penthouse)
Free WIFI
You can request rates and availability here.
Conclusion
I went there with pretty low expectations but ended up loving it so much I stayed an extra night. They were happy to extend my stay at a reasonable price and give me free breakfast as the rest of my stay had it included. There is no pool/steam/sauna etc. which I usually look for, but the prices are reasonable and it's perfect when I'm on the go a lot.
I found it to be a very quiet and luxurious hotel which really helped me relax. The staff were truly exemplary apart from one breakfast when things were a bit slow. However, they noticed this and apologized before I could say anything and moved on.
The spa, restaurant and bar are also worth a visit.
NOTE: Things may have changed slightly as Covid restrictions have lifted further since my stay in Fall 2021.