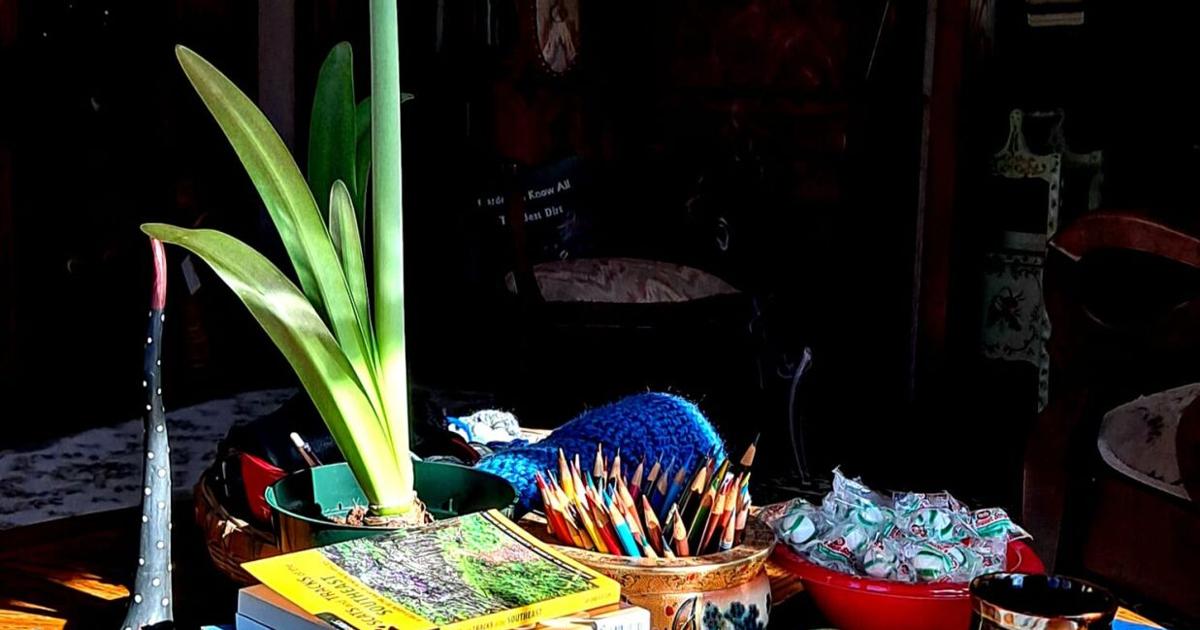 Sandy Parrill: Bookish entertainment for your January break | Local News
I didn't need the excuse of snow and cold to convince me to stay indoors for a break in January, but I took it anyway for a winter break and a mind reset . The morning sun after the snow poured through the window beside me, pouring a wash of buttery gold onto the old oak coffee table and splashing light on a pile of wordy books I had pulled from the shelves of my own personal library. Winged shadows passed over my pages as cardinals and jays politely exchanged places on the manger below the window in the sleeping dogwood, digging into the seeds uncovered by the melting snow; smaller birds gathered in a nearby forsythia to wait their turn. With a hot cup of my favorite mint tea, a soft fleece throw, and a lap full of purring cats, I was ready.
There are no new garden books for me this year. Instead, some of my old favorites that wanted to be revisited – and a few that I'd never had a chance to do much more than scan to save for later – resurfaced, and now is later. Some may seem familiar from previous winter columns.
One of these most anticipated reads is "Gardening at the Dragon's Gate: At Work in the Wild and Cultivated World" (Wendy Johnson, 2008). The inside cover reads "Gardening at the Dragon's Gate is fundamental work that permeates your whole life. It takes energy and heart and also gives you great treasures back, like a heightened sense of humor, an appreciation for paradox, and a huge harvest of kale and tiny red potatoes.
"As a Lap Gardener" Wendy has spent over thirty years of her life meditating and gardening at the Green Gulch Zen Center in Northern California and "shares a wealth of practical knowledge and fascinating gardening traditions" with Zen meditation and a love affair with the Earth and all of Nature. Her Zen journey begins during the troubles of the Vietnam era as a political activist and protector of the natural world and continues on the California coast, where she continues to write and be passionately involved in environmental work.
She speaks to my heart when she says, "All that I know and love is also liable to change and fall apart," which is the truth at the very heart of the natural world. For me, gardening and the art of gardening are meditations in themselves, not the mind-liberating "om mani padme hum" mantra of the Buddhist teachings (although I suppose it could be repeated while on the hands and knees ripping grass and Bermuda grass to put one in a state of nirvana) but rather mindfulness in awareness of the growing world and its connection to our own existence and in the hard work of the garden, not simply in the pleasure we take in observing nature and its wonders. You have to get your hands dirty, explore, pose and experiment, know the spirit and the mud of the garden as the author suggests. As someone who feels that some days my blood runs green with sap and there is no distinction between the soil in my fingers and my own flesh, I will really enjoy fully immersing myself in this book this time. -this.
"People with Dirty Hands: The Passion for Gardening" (Robin Chotzinoff, 1996), a collection of colorful American gardeners, a nosy, gossipy book full of interesting characters and why they garden is on my re-read list, as is "Digging Into : Tending to Life in Your Own Backyard" (Robert Benson, 2007) as he takes us on as he and his family create a garden and a life in a long-abandoned cottage, they take ownership and develop a relationship with the garden – full of mistakes and successes along the way.
"The Wild Gardener: On Flowers and Foliage for the Natural Border" (Peter Loewer, 1991) is an exploration of native American plants for the wild garden. It's full of folklore, historical knowledge, how to transplant, how to propagate, what works best and what a native city garden doesn't want, and what nature needs as a refuge, as the author takes us through the natural world month by month. I refer to it often and love re-reading its philosophy and observations, as well as the lovely bits of poetry sprinkled throughout the pages.
Getting practical, down-to-earth common sense is "Panty Hose, Hot Peppers and Tea Bags – and more for the Garden: 1001 Ingenious Ways to Use Common Household Items to control Weeds, Beat Pests, Cook Compost, Solve Problems, Facilitate Tricky Tasks and Save Time" (2005). Whew. It's packed with solid practical suggestions, though some may be more trouble than they're really worth. I haven't counted to see if there really were 1001 ways, but as a reference full of eco-friendly tips and ideas for recycling things, it's a good book to read and makes me say, "I didn't know I could do this."
I like "Scats and Tracks of the Southeast", a small Falcon Field pocket guide by James Halfpenny and Jim Bruchac (2015) to slip into a back pocket when hiking in the snow and looking for creature tracks in the woods.
It's a handy guide to whether it was a pile of fox, coyote (or dog) feces – a coyote will have hair and bones in it; fox rabbit fur and berry seeds; a dog will probably have none of that. Are these squirrel or rabbit tracks; opossum or a raccoon? This book will help you, even though some are so similar it's hard to see the differences, especially when the tracks are distorted by melting snow.
I learned that owls aren't the only ones that spit out pellets of bone, fur, and indigestible stuff; hawks, eagles and crows do the same.
The snow may have melted, but the thermometer says I really don't want to go. My books are a better idea and good company.
All of these books are available on Amazon and probably your favorite bookstore.
Sandy and Jim Parrill Garden of Chaos, their acre of the Ozarks in Joplin. Sandy is a lifelong gardener and a master gardener from Missouri. Jim is a former garden center owner and landscaper; both are former members of the Missouri Landscape and Nursery Association. Email them at [email protected] and follow their Facebook page, A Parrillel Universe of Wonderful Things.