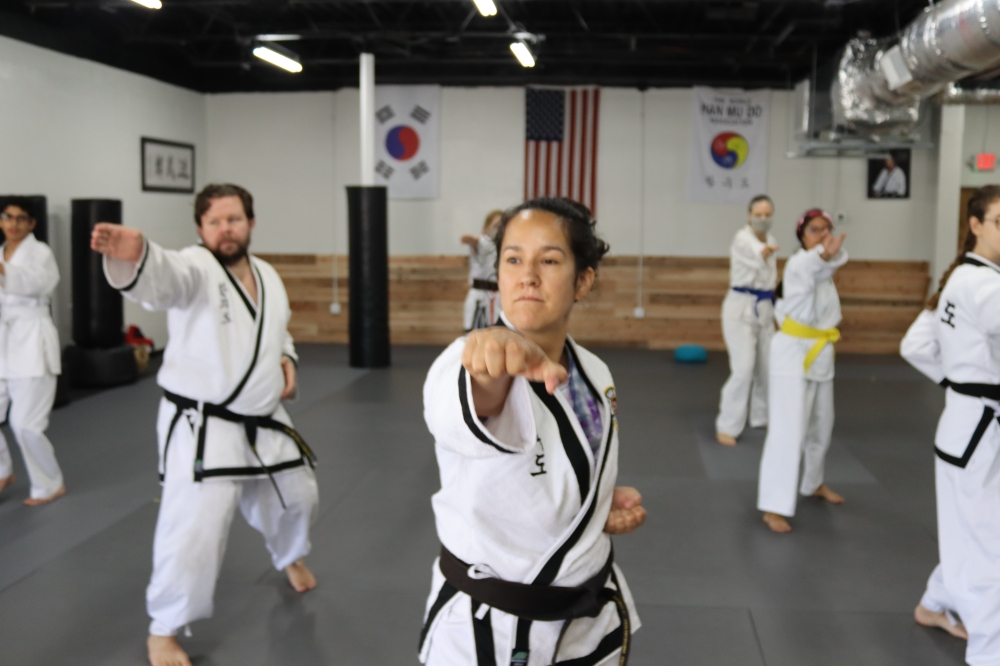 The Harvest Concept offers martial arts, yoga classes in Franklin
The school offers a variety of classes, including Baptist power yoga, archery, kickboxing, personal training and Han Mu Do, or Korean traditional martial arts for self-defense. (Courtesy of The Harvest Concept)
After years of martial arts experience, owner Justin Martin knew he wanted to bring a new approach to teaching in the Franklin area.
"What we saw was a need for more family-oriented specific martial arts that didn't just teach kids to kick and punch and win belts," Justin said. "We wanted to have a holistic approach. "
Justin and his wife, Amber Joy, opened Harvest Martial Arts in Franklin's Independence Square in 2016, in a 1,000 square foot space that Justin said he quickly overtook.
After temporarily switching to virtual and outdoor classes in 2020, the studio opened in a larger 2,500 square foot location under a new name earlier this year. Amber Joy said the new name, The Harvest Concept, better captured the school's range of courses while symbolizing the idea of ​​reaping the rewards of discipline and commitment to fitness.
"When we first got together we had this little urban farm and we saw when you take care of something and yourself and other people, like, you just see magical things happening." , said Amber Joy. "[When you] plant good seeds, give water, sun and love, you see all the great things that can come out of it and I think that's really what we've built here – a space where we can really share this harvest with the community and all these people, and have fun.
The school offers a variety of classes, including Baptist power yoga, archery, kickboxing, personal training and Han Mu Do, or Korean traditional martial arts for self-defense. According to The Harvest Concept, this is the only Han Mu Do school in Tennessee. •• The new studio space features two practice floors, indoor and outdoor archery spaces, and a newly added retail store where students can purchase t-shirts and gear.
Justin said that in addition to working with students from kindergarten through adulthood, The Harvest Concept is also working with the Franklin Special School District to deliver after school classes.
Justin said that over the years one of the most rewarding aspects of owning school is seeing students' progress in their education.
"I have kids that I've known since they were three and now they're black belts on their teams so it's a lot of fun," said Justin.
The concept of harvest
313 Independence Square, Franklin
615-224-3851
Schedules: schedules vary depending on the course